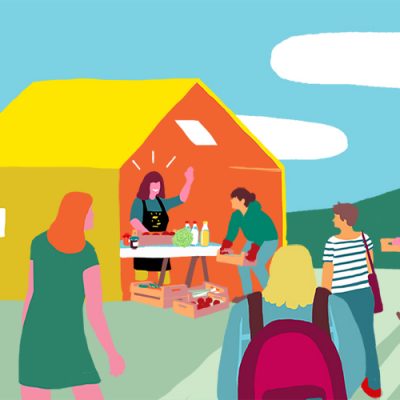 On paper, our business may seem simple: enabling consumers to buy healthy, quality products directly from producers. However, the task is more difficult than you think. We need to reconstruct the basic principles swept away by 50 years of the agri-food industry: fair pay for producers, access to products that are good for the plate as well as the planet, and transparency of what's in products. To do this, we rely on innovative digital tools to develop a collaborative online platform accessible to all.
A collaborative platform
The thefoodassembly.com site allows all users to manage their activity independently. Each Food Assembly has its own site looked after by a Host. The Producers have their own dedicated trading space in which they manage their product catalogue, prices, sales, collections and invoicing, and each Member can register for several Assemblies to buy the produce of their choice and share with their community. All these stakeholders are interconnected and weave together a new way of doing business that is fairer, more humane and more collaborative.
Meet our network
Educational tools
Joining the food revolution requires you to understand it. That's why, The Food Assembly has developed its own media in French: Oui ! Magazine which has 250,000 visits per month. Reports, videos and podcasts help to share the true price of food, the story of life in the fields, what labeling actually means. A new issue is released every week, encouraging people to reflect on the issues of agriculture, food and the collaborative economy.